Psychosis drugs in Nurofen
Plus packs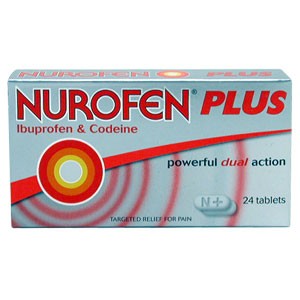 MEDICINE watchdogs sounded a major alert last night
over thousands of Nurofen Plus packs that might contain
powerful anti-psychotic pills.
It is thought blister packets of Seroquel XL – used to treat schizophrenia,
manic behaviour and depression – have been mixed with the popular
painkillers at a wholesaler's.
It is believed human error during packing is the likeliest cause. But
sabotage has not been ruled out.
Nurofen Plus cartons contain 32 tablets each – and it is estimated a total
of 500,000 pills may be involved.
The warning was issued by the Medicines and Healthcare products
Regulatory Agency after three contaminated packs were bought at
separate chemists in South London.
People who find prescription-only Seroquel in Nurofen Plus packs were
urged to alert their local pharmacy or GP – or call the MHRA's defective
medicines hotline on
020 3080 6574
.
Seroquel XL capsules can cause extreme drowsiness or dizziness – and
those who take them are warned not to drive or operate machinery.
They are large 50mg tablets in gold and black packaging.
Nurofen Plus pills are smaller and come in silver and black packaging.
Makers Reckitt Benckiser said "serious investigations" are under way to
discover the cause of the mix-up.
It is particularly baffling as Seroquel is manufactured by another drug firm,
AstraZeneca.
Reckitt medical director Dr Aomesh Blatt said: "We encourage customers of
Nurofen Plus to be vigilant."
http://www.thesun.co.uk/sol/homepage...-RSS&ATTR=News